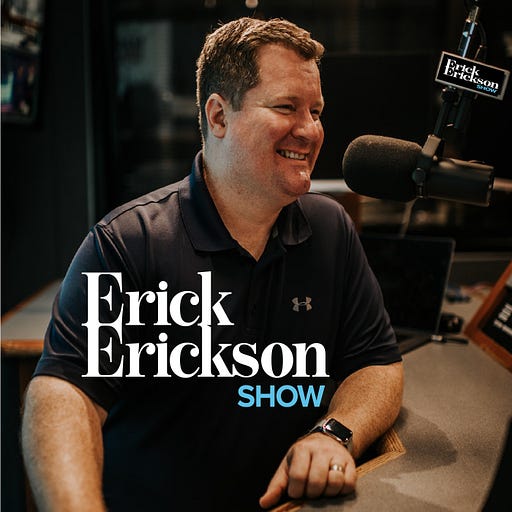 Mar 12, 2021 • 16M
Amazon Censors Christian, Conservative Thought
Erick Erickson hosts the Erick Erickson Show every weekday from 12pm to 3pm ET, now in national syndication from his flagship station, WSB in Atlanta, GA.
Ryan Anderson worked at the Heritage Foundation and just recently became the new president of the Ethics and Public Policy Center, a think tank that brings Christian orthodoxy into the public square to help shape conservative and national policy.
Anderson is also a noted scholar and three years ago wrote a book called When Harry Became Sally. The book addresses, as its subtitle says, "the transgender moment" in the country. Though transgender advocates assailed the book, scholars greeted it for what it is — a reasonable, thoughtful, and scholarly critique of the trans movement.
For three years, Amazon.com sold the book. A few weeks ago, Amazon stopped selling it. But Amazon did more than stop sales. They prohibited even third parties from selling it via Amazon's platform.
In three years, Ryan had not updated the book. Its words did not change. But suddenly Amazon says the book violates Amazon policies. Which polices? We are left to guess.
The censorious left is at it again. Amazon sells 80% of books in America now. When it decides not to sell a book that thoughtfully and respectfully critiques the trans movement, it is not just picking a side, but it is engaged in a form of market restriction having worked to achieve near monopoly status. Its actions are contributing to a new line of thinking on the right — one that will lead to active intervention by the government into the affairs of private sector companies as those companies work with the left to shut out voices from the right.
This is a dangerous game and one that overwhelming benefits the terrorists of Woke-O Haram at the expense of reasonable people who disagree.
You can order Ryan's book here directly from his publisher. Above, you can listen to my conversation with Ryan about what Amazon says and also about this strange moment in the West where suddenly boys and girls are deciding, contrary to nature and biology, that they can pick their gender.